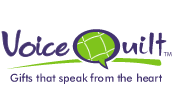 VoiceQuilt- Gifts that speak from the heart...literally!

I was recently introduced to something called VoiceQuilt which is a totally unique gift for the very hard to buy for, the sentimental or for that person who has everything. So let me tell you more about what it is...
Voicequilt is a Keepsake filled with the loving voices of friends and family! It is a one-of-a-kind, meaningful gift that only gets more valuable over time. It's a fun & easy gift to create as you just have to have your friends and family call a number and leave a special message for someone. Once you have all of the message recorded you then get to turn those special recording into a Keepsake gift that you give your loved one!
The first step is to choose your keepsake. There are many options when it comes to a VoiceQuilt. You can purchase wooden boxes and as soon as you lift the lid, much like a jewelry box the messages start playing automatically! You can also choose a cd to record your messages on for your loved one to listen to anytime, anywhere like I received to review or you can have something as simple as having the messages arrive on a USB drive.
The next step is to set up the message center. You just
call into the free number that VoiceQuilt provides and record a message to explain to everyone calling in what this is for and what they needed to do. After you set this up the fun begins! You start inviting your friends and family to call in and record a special message for the person you are giving the VoiceQuilt to. VoiceQuilt sends them each a message with a code so that they can call in and leave their personal message. It's so easy- just like leaving a voicemail for someone. After everyone has called in and recorded their message you are then able to go through and listen to the messages and put them in order, delete or keep them! You can then add music to finish your VoiceQuilt and make it really special. After doing all of this you just order the VoiceQuilt and it's ready to give to that special someone!

This is such a fun personal gift. It is simple to do and means so much to the person receiving it. I will have to say that the only hard part was getting everyone to call before the deadline as you buy so many days for people to call in and record their message. The nice part is, is that you can view every incoming message so if you see that someone hasn't called in yet you can re e-mail them and remind them that they only have so much time left and that you want them to be a part of your special gift!

I can't tell you who I did my VoiceQuilt for as I haven't finalized everything yet, but I will tell you that I have LOVED listening to all of the special messages that people have left and I know my recipient is going to love this gift so much!!
What a wonderful gift this would make for Mother's Day which is quickly approaching! That is why VoiceQuilt is offering 2 of my readers a coupon worth 7 days of free voice time so that you can try this out for yourself! Get ready to have some fun inviting your friends and family to record a special message for someone you love!
-GIVE-A-WAY STARTS HERE-

VoiceQuilt
has generously offered

2

of The Jackson Five Family readers the chance to try

VoiceQuilt

for themselves by giving them a coupon worth 7 days of free voice time!
*IN ORDER TO ENTER MY GIVE-A-WAY , YOU MUST BE A PUBLIC FOLLOWER OF THE JACKSON FIVE FAMILY BLOG. TO FOLLOW ME CLICK ON THE "FOLLOW" BUTTON ON THE LEFT HAND SIDE OF MY BLOG. EASY PEASY :) IF YOU ENTER MY GIVE-A-WAY AND YOU ARE NOT A PUBLIC FOLLOWER THEN ALL OF YOUR ENTRIES WILL BE FORFEITED!!!*
MANDATORY ENTRY: Please leave me a message telling me who you would love to give a VoiceQuilt Keepsake to?

EXTRA ENTRIES: Make sure that you leave a SEPARATE comment for each thing that you do for the entries to be counted! (PLEASE LEAVE YOUR E-MAIL IN ONE OF THE COMMENTS)

1 Entry- Follow VoiceQuilt on Facebook HERE!

1 Entry- Start Following VoiceQuilt on Twitter Here!
1 Entry-Become a Fan of The Jackson Five Family blog on Facebook.
1 Entry- NEW Start Following Jackson5FamBlog on Twitter Here!

1 Entry- Sign up for one of my other give-a-ways and let me know which one you signed up for! (IT CAN NOT BE THIS GIVEAWAY)

1 Entry- Sign up to follow The Jackson Five Family Blog Yes this is mandatory but you might as well receive an entry for doing it!! :)

1 Entry- Subscribe to receive The Jackson Five Family feed in your inbox. Just type in your e-mail on the right of my blog, make sure you confirm your subscription as well!
1 Entry-Grab my button and add it to your page! (please leave the link so I can check it out!)

Rules: Open to readers in the US! Give-a-way ends April 24st 2011 at 11:59 pm EST. The winner will be randomly chosen and will have 48 hours to respond.
I want to thank

VoiceQuilt
for allowing me to review their awesome product free of charge! The things you read above are the honest opinions of the product(s) reviewed and I was in no way paid to say the things you read
!