The Jackson Five Family received a complimentary product sample to help facilitate this feature. However, all opinions are honest and our own!
We love giving during the holiday season and I'm so excited about some of the holiday beauty and fragrance sets that L'OCCITANE is offering this year. They make great teacher gifts, fun stocking stuffers and are the perfect gift for anyone who loves a little pampering!
How cute are these festive ornaments hung on my tree? They are all so pretty!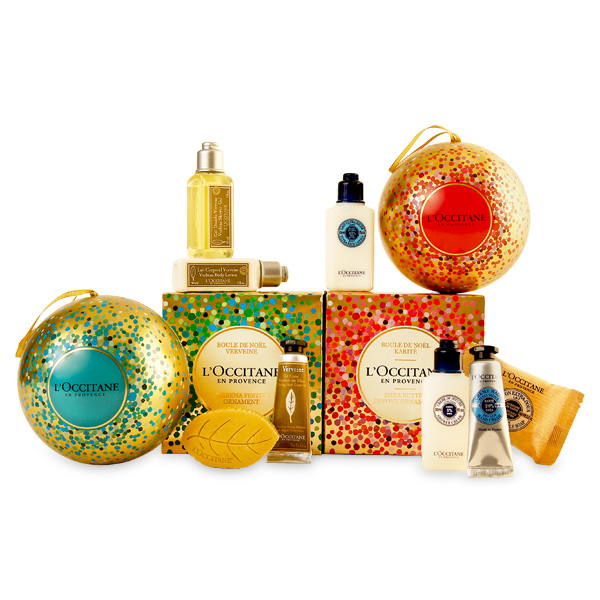 The L'OCCITANE Holiday Bauble's come in two different scents -- Verbena and Shea Butter.
The ornaments come ready to give in decorative boxes or you can hang them right on the tree for a special surprise come Christmas morning! Inside each ornament you'll find 4 little luxury products. They smell so good. I could smell them even before opening the ornament, yum!
In the Verbena you'll receive cooling hand cream, shower gel, body lotion and a perfumed soap. In the Shea Butter you'll get a hand cream, extra gentle milk soap, ultra rich body lotion and shower cream.
They are very affordable at only $14 a piece and you can buy the set of two! So, so, cute!
Next are the L'OCCITANE Hugs and Kisses sets available in 5 different varieties: Shea Butter, Delightful Rose, Jasmin-Immortelle Neroli, Pamplemousse Rhubarbe and Shea Zesty Lime.
These are so cute too! In each set you get a luxury hand cream and lip balm. Again, very affordable at only $20 and each package is so festive and comes with a loop to hang on the tree, no wrapping required!
L'OCCITANE has a great Holiday Gift tab on their site featuring all of their best holiday gift sets and I love their 'Gift Finder'. It allows you to narrow down gifts by budget or that certain person you are shopping for!
If you're looking to give luxury skincare, bodycare, perfumes and home fragrances this season for men or women make sure you hop on over to the L'OCCITANE site to learn more. I've added a few of these sets to my own Christmas list this year!