(The Jackson Five Family received a complimentary product sample to help facilitate this reader feature. However, all opinions are honest and our own!)
Star Wars, Star Wars, Star Wars -- As the new movie, the Force Awakens hits theaters this week let's talk about a fun gift idea from CROSS Pens. CROSS fine writing instruments has the perfect gift idea for all of your Star Wars loving friends and family. They've partnered with Disney and launched a Star Wars collection featuring classic characters that are sure to be a hit this year!
Give the ultimate Star Wars gift with the Star Wars Jotzone Collection gift set $75
This limited-edition set captures the spirit of three great characters of the original 1977 Star Wars film. Fans of Darth Vader, C-3PO, and the Stormtroopers will enjoy having one of these companion journals and gel pen sets at hand. From imperially inspired design, to smart features, to a superior writing experience, these sets are sure to spark big ideas across the galaxy this holiday season and into the new year! CROSS offers many items in their new Star Wars collection that would make great gifts for all Star Wars fans this holiday. Make sure you check out the whole collection at
cross.com
.
If you really love to give and are looking for a unique idea then you must check out another great gift idea from CROSS.
It's their
Limited-Edition Peerless Fonderie 47 Fountain Pen.
With only 47 being made this one is really special. Not only will you be giving someone a great gift, but when purchased you'll be helping fund the destruction of ten AK 47's in war zone Africa!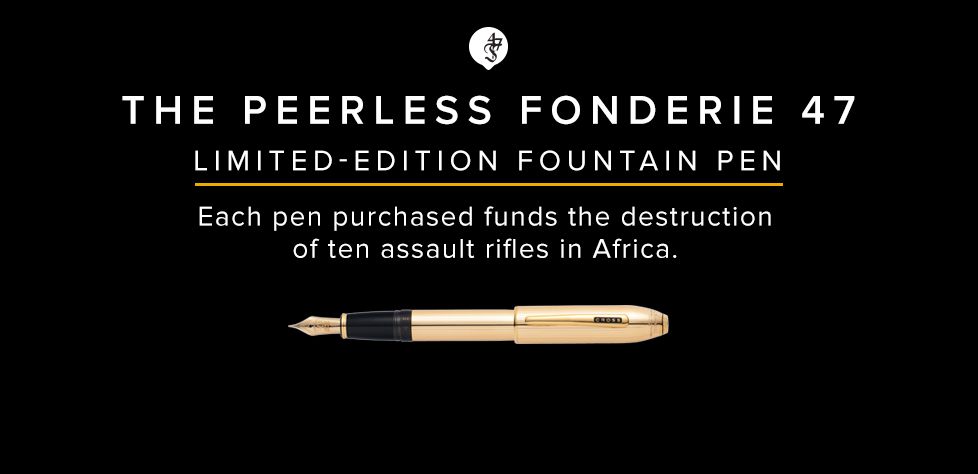 The Peerless Fonderie 47 Limited-Edition Fountain Pen is at once, an exquisite fine writing instrument for human expression as well as a vehile for positive social impact and change. The series' signature is a disk of blackened steel from a melted-down, AK47 which is embedded in the cap and marked with the Fonderie 47 logo. Additionally, the center band that encircles its 18K, gold-filled barrel bears the unique serial number of the gun taken out of circulation in Africa to create it. For purposes of authenticity, each fountain pen is also engraved with a CROSS limited-edition number, representing each pen's unique number in the limited edition series of forty-seven pens.
As you finish up your holiday shopping make sure you check out CROSS! CROSS believes that every great idea starts with putting pen to paper, and that writing will always be the spark that ignites a passion to create and inspire change.
Visit CROSS to view their entire collection:
Happy Holidays!