The Jackson Five Family received a complimentary product sample to help facilitate this feature. However, all opinions are honest and our own!
It's National Women's Health week (May 8th- 14th) and I'm joining the Colgate Total Pledge to Refresh, Restore and Repair my health from mouth to toe.
I pledged to put my health first by sharing my "healthyselfie" on social media using hashtag #MyColgateSelfie and I hope you will too!
One of the most overlooked small steps women can take to help improve their overall health is better oral care habits. By making small changes to your daily routine like using the Colgate Total
®

Daily Repair regimen you can improve your overall oral health. This new regimen includes Colgate Total
®

Daily Repair Toothpaste and Colgate Total
®

Daily Repair Mouthwash.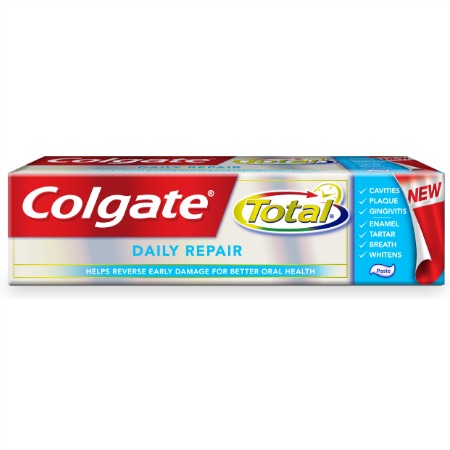 Repairs Early Damage to Teeth and Gums* (Colgate Total® Daily Repair toothpaste)
Refreshes Breath; Restores Natural Calcium to Teeth; Repairs Weakened Enamel (Colgate Total® Daily Repair Mouthwash)
4x Deeper Reach** (Colgate® 360°® Total® Advanced manual toothbrush)
I've been using these products for a few weeks now and and they really make my mouth feel fresh and clean. I feel good knowing that I am taking care of my oral health and will continue to make it an important step in my day!
Will you take the pledge to put your health first during National Women's Health week by posting your "healthy selfie"? A healthy selfie is simply a photo of you participating in any activity that contributes to overall health and wellness. We'd love to see a selfie of you enjoying a nutritious snack, getting in a quick workout, enjoying the outdoors with your family or using Colgate Total
®

to improve your Oral Health.
Simple Tips for taking the Perfect Healthy Selfie
Natural Light is your friend. Try turning to the side (at a 45 degree angle) to ensure your smile is in the best lighting.
That said, having sun directly in your eyes and face is not fun! Avoid direct sunlight because it creates a hard contrast photo with dark shadows. Make sure you're in the shade, but have natural light available.
Your camera angle is one of the most important parts of taking a selfie. Work to adjust your camera to find an angle that you like best. For example, raising your camera above your head will make your neckline appear slimmer --whatever angle you choose just have fun with it.
Lastly, Be CONFIDENT --no mater the angle or pose, you can always light up any photo with a smile!
Learn more about the Colgate Total Daily Repair Regimen by visiting:
Make sure to also visit Womenshealth.gov/NWHW to learn more about National Women's Health week and to see how you can put your health first!
Colgate Total® Daily Repair Toothpaste, Colgate Total® Daily Repair Mouthwash, and Colgate® 360o® Total® Advanced Floss-Tip® 1 Bristles Toothbrush - See more at: http://her3littlethinkers.com/national-womens-health-week-colgate-total-daily-repair-2/#sthash.YdF8bBgR.dpuf
Colgate Total® Daily Repair Toothpaste, Colgate Total® Daily Repair Mouthwash, and Colgate® 360o® Total® Advanced Floss-Tip® 1 Bristles Toothbrush - See more at: http://her3littlethinkers.com/national-womens-health-week-colgate-total-daily-repair-2/#sthash.YdF8bBgR.dpuf